When I first visited in March, Indoni were rehearsing in a fairly run down community hall in Gugulethu, with a leaking roof and holes in the floor, so I was delighted to hear a few months ago that they found a better space at Oude Molen Eco Village. I was even more delighted when I learned more about the Eco Village, which was originally initiated as a micro enterprise village in 1997 by a small group of social entrepreneur tenants with the initial aim to optimise the use of an abandoned and vandalised hospital complex in order to address socio-economic challenges such as job creation, youth development and food security in the region by utilising micro-enterprises, non-profit organisations and social enterprise services.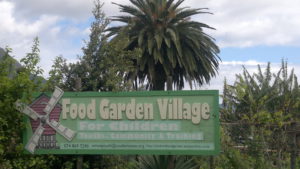 Over the past seventeen years the village has evolved into a diverse community consisting of numerous metal, wood and craft enterprises, social projects, food gardens, a public swimming pool and recreation facilities, a frail care center, a farm stall café, horse-riding activities, backpacker accommodation, artists, musicians and film industry services.
On my first arrival I straight away fell in love with this place, you feel like you're in the country side with the smell of mulch, straw and horses, chicken running around, a farm stall cafe, a Waldorf school and lots of interesting businesses, including Juma Drums, where I was heading for last Friday.
Dingiswayo Juma is a multi-skilled multi-instrumentalist, drummer, percussionist and instrument maker and he started the first lesson by teaching me the proper technique for playing the djembe.
He also does repairs and re-skinning so all his drums are beautifully tuned up and a great joy to play. Later that day I learned a rhythm from Ghana called Nagla, with calls and answers and even some words and melody that goes with it. I managed to pick up the rhythms and melodies but the words I admittedly just mumbled along – a lot to process for my European brain and body 🙂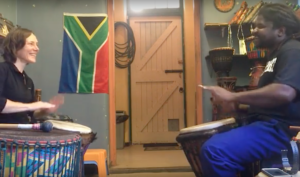 Quickly adapting to my skill levels and finding the right kind of challenges that left me with a sense of achievement proves his ability and experience as a teacher, I cannot recommend him highly enough.
A few days later I went back for more and we recorded a Djembe 'jam' together with the view of possibly using it in the show. It was great to play and improvise together freely after recapping on techniques and a short warm up.
Dingiswayo has got a whole selection of fascinating African instruments so I arranged for a third meeting to find out more about the Kalimbas and Mbiras, which he makes himself from scratch, using local wood and metal rods which he hammers into the tongues, all perfectly tuned up with the help of an electronic tuner. Most interesting I found the use of the calabash, a large gourd which is cut to make a semi-sphere and in which the Kalimba is placed to act as an acoustic body and thereby amplifying the sound. The Mbira is a larger version of the Kalimba, which sounds lower and has more metal tongues and a more difficult technique, starting with holding it the right way and using the right index finger in addition to the thumbs.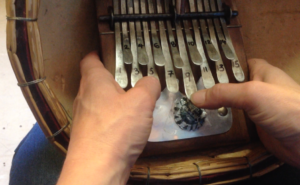 I learned some basic patterns  and chords and felt like I was just getting the hang of it when the lesson was over already. Time flies if you're enjoying yourself 🙂