The main objective of my stay in South Africa of course was to contribute original music to Indoni's show Ukwakha ("We build"), so after spending a week observing rehearsals, taking video footage and exchanging creative ideas with Sbo, the Artistic Director and choreographer, I retreated to a quiet place in nature on the edge of civilisation on the Southern tip of the KwaZulu Natal South Coast to compose, arrange and produce music that would fit the requirements.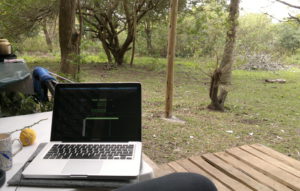 For the opening sequence Sbo wanted an epic sounding orchestral track so I installed an extensive orchestral sound library on my MacBook Pro with the help of my dear friend Ian Finney, and got my head around using sample tank and programming articulations, thanks to his never ending good advice.
With so much choice for instruments and dozens of available articulations it took a considerable amount of time to decide what to use in the first place and then get it sounding right, and I could have spent another four weeks refining it if I would have had the time.
Another challenge on top of that was the general structure of the piece, with several time signature and tempo changes.
But the most daring aspect was probably the energy levels that were required to carry an athletic and intense performance by a company of 19 dancers.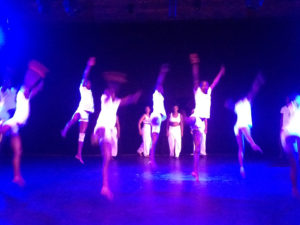 Adding a live djembe track (luckily I happened to find a tuned djembe in my host's lounge in KZN) seemed to do the trick – even before I had my first official lesson 🙂
All in all it was a steep learning curve but after a few weeks of hard work I am happy to say that Sbo really liked what I created.
Another part of the choreography was an intimate, emotional duet for which I composed a solo piano piece, and again, it did match the sequence well and I am proud to say that both pieces are included the show now as planned.
I had many more ideas for other parts of the show and even started with some new tracks, including a more meditative piece with natural ambiences I recorded in KwaZulu Natal – but within the given time frame it was simply not possible to develop and finalise anything else.
Last night the show finally opened at Magnet Theatre in Cape Town and the dancers once again amazed me with their sheer energy and stage presence. They are truly the most hard working young adults I've ever met, their professional attitude and discipline is outstanding.
The show will be on again tonight followed by two performances on Saturday. Watch this space for video footage soon – if technology doesn't let me down again like last night… :/
Both Sbo and I are very happy with the outcomes of this collaboration, and feel that this is just the beginning of a long lasting creative relationship, with lots of exciting ideas for the future.
Thank you Sbo and Indoni for giving me this amazing opportunity, I really hope to be working together again soon!
My biggest thanks goes to Arts Council England and British Council who funded this adventure through the Artist International Development Fund.